What is your PURPOSE?
What good will you START?
What IMPACT will you make?
What LEGACY will you leave?
~
The #StartingGood Social Enterprise Virtual Summit is a free-to-access 10 day virtual summit that brings together 30+ world renowned social entrepreneurs and experts to talk about creating social change.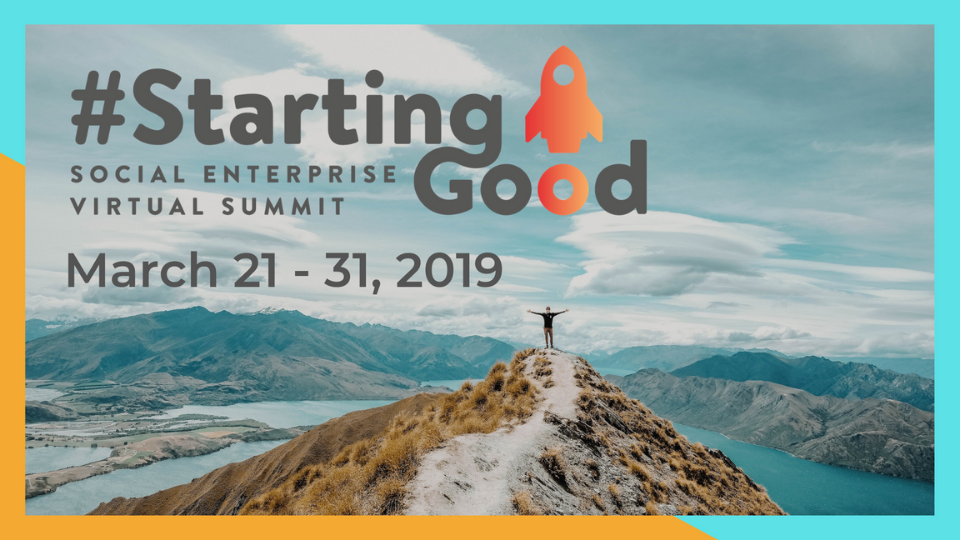 At StartSomeGood, we're convinced that we are entering the Era of Purpose. We see this all around us. In the demands from graduates for meaningful work, from consumers for quality ethical products and from investors for companies that combine profit and purpose.
2019 is our third year running the #StartingGood Summit and we are thrilled to be bringing you a stellar line up of over 30 changemakers, innovators, movers and shakers in who are making the world a better place.
Previous Summit guests include Nobel Peace Prize winner, Muhammad Yunus, Clay Shirky, Founder of Donor's Choose, Charles Best and Co-Founder of Charity Water, Scott Harrison.

---
"I really can't thank you enough for this invaluable & fantastic information overload you have offered us. It has blown my mind how well put together this summit was & how privileged I feel to have such insight from these world leaders."
Taylor Hammond, 2017 Summit Attendee

---
2019 Speakers & Presenters

Chris McAlister - Founder, SightShift

Founder of SightShift, speaker, author and leadership coach Chris will present a session on 7 Mindsets of an Effective Leader, to help you discover your strengths, weaknesses, and blind spots to become more effective and increase your impact.
Mark Brand - Serial Social Entrepreneur

Mark Brand is the CEO of Mark Brand Inc, founder of A Better Life Foundation, executive chef at The American Refugee Committee and professor of innovation at the University of Southern California. He has founded 11 businesses and through his cooking, philanthropic efforts, systems design, and love for the community he's found a unique balance in business and purpose
Aaron Hurst - Founder, Imperative | Ashoka Fellow
Aaron Hurst is the foremost expert on the science of purpose at work and in 2014 brought global awareness to the rise of the fourth economic era in history, the Purpose Economy. He is the CEO and Co-Founder of Imperative, the technology platform for leaders in the new economy.

---

Hailey Cavill-Jaspers - DoGoodologist and Entrepreneur
Switching from marketer to DoGoodologist, Hailey will share the trials & triumphs of running a social business for 23 years that's invested over $40m into community.
Nicole Gibson. Author | Speaker | Entrepreneur
Multi-award winning social entrepreneur, author and unstoppable messenger of love and human potential, Nicole will present on the power of love in social enterprise.

Joanne Sonenshine - Founder, Connective Impact
Founder and CEO of Connective Impact, Joanne will present a session on Purposeful Partnerships: How to leverage partnerships for mutual benefit and purposeful profits.
---

Kate Nelson - Plastic Free Mermaid
After the global waste and consumption crisis, activist Kate Nelson AKA Plastic Free Mermaid felt the need to radically make a change. She's been plastic free for the past 10 years and will present a workshop on "Plastic Free Living".

Jeremy Heimans - CEO and Co-Founder of Purpose.com, Co-Founder Avaaz
Hear Jeremy's story as a changemaker, activist and thought leader, from successfully creating Avaaz.org, which has become the world's largest online political movement with over 15 million members, and GetUp.org, which is an Australian political movement.

Patricia Letayf - Co-Founder of Five One Labs
Five One Labs is a start-up incubator, based in the Kurdistan region of Iraq that helps refugees and conflict-affected entrepreneurs launch and grow their businesses in the Middle East.

---

Michel Bauwens - Founder P2P Foundation
Michel is the founder and director of the P2P Foundation and works in collaboration with a global group of researchers in the exploration of peer production, governance, and property. Bauwens travels extensively giving workshops and lectures on P2P and the Commons as emergent paradigms and the opportunities they present to move towards a post-capitalist world.

Holly Ransom - CEO Emergent | Professional Moderator | Speaker
Holly is renowned for generating innovative solutions to complex problems for corporations, governments and non-profit organisations, and for coaching and professionally mentoring leaders of all generations around the world. In 2017, Sir Richard Branson named Holly as his nomination to Wired Magazines 'Smart List' of future powerhouses to watch.
Spryte Loriano - Co-Founder Waterbearers and Awakening Giants TV
Spryte starter her entrepreneurship journey at 23. She launched an internet fundraising campaign in 2006, called FEED333 which fed 1.2million children in the US. Shewent on to co-founded a multi-million dollar direct sales company which brought together over 6000 social entrepreneurs and provided over $1.8 million in humanitarian aid in several countries.
---

Tracey Chambers - Founder, The Clothing Bank | Ashoka Fellow
In 2010 Tracey founded The Clothing Bank, a social enterprise that helps women and mothers become self-employed and financially independent. Considered one of the best examples of sustainable business development in the country, the organization is dedicated to inspiring and training impoverished women. Hear Tracey's journey from leaving the corporate world in an effort to find her purpose and empower South African women.
Erfan Daliri - Poet | Activist | Director Newkind Festival

Erfan Daliri is a social change animator, writer, educator, youth worker and a spoken word artist. As the director of Newkind Festival much of his work focuses on empowering, inspiring and activating agents of social change.
Marina Kim- Founder & Director, Ashoka U

Marina's work in social entrepreneurship dates back over a decade. She started at Stanford University, leading the Future Social Innovators' Network, the Social Entrepreneurs' Challenge, and co-founding the university's first minor in social innovation. Since then, Marina co-founded and leads Ashoka U, working with campuses to embed social innovation as an educational focus and core value of the university culture.

---
INSPIRATION | INSIGHTS | MINDSET | ACTION
The #StartingGood Summit will be presented in four streams:
1. INSPIRATION - Seasoned changemakers share their stories on the journey of entrepreneurship revealing their biggest learnings on their path to creating tangible social change.
2. INSIGHTS - Experts open the lid on specific topics like climate change, blockchain, ethical fashion and impact investment.
3. MINDSET - Here we explore the ways in which effective leaders keep their head in the game, maintain their energy and focus, and avoid burnout.
4. ACTION - These sessions are highly practical how-to workshops on the work of entrepreneurship including PR and marketing; recruitment and team culture; fundraising and financial management.
---

What is the CHANGE you seek?
What FUTURE are you CREATING?
~
CLICK HERE TO JOIN US 21 - 31 MARCH FOR 10 INCREDIBLE DAYS OF INSPIRATION AND ACTION LEARNING.
The #StartingGood Summit is for:
Aspiring changemakers with a passion to change the world.

#StartingGood will give you the foundation to do so - with knowledge, advice and practical tips to get you started.
Innovative thinkers, full of wild ideas, ready to solve the world's toughest problems.

#StartingGood will help you turn those ideas into a reality, and shape them into a sustainable social enterprise.

Experienced entrepreneurs who want to incorporate more "purpose" in to their work.

#StartingGood will provide opportunities for you to learn more about how profit and purpose can work together.


Whether you are passionate about human rights, tackling climate change, education, reducing waste or gender equality there is something for you at the summit.

Join us and thousands of other changemakers, innovators and purpose driven humans for 10 incredible days of inspiration and action learning.
MARCH 21 - 31, 2019
Sign up here, it's totally FREE!
Then forward this page to your like-minded friends and invite them to join you!